NEWSLETTER
Volume 2 Issue 5 / May 1998
Publisher: XANTHOS CARS-NORTH AMERICA, INC.
P.O. BOX 87443
San Diego, California 92138-7443
Robert Simmons, Editor (619) 277-4681

---
BEEN THERE - WON THAT!
---
The new Xanthos 23-Sports Racer was on display April 25th and 26th at the Knotts Berry Farm 19th Annual Handcrafted Auto Show. This event is put on once a year by the Association of Handcrafted Automobiles. For the second year in a row Xanthos has won the Manufacturer's 1st Place Trophy in the Sports Roadster category. We are particularly pleased to receive this award because the spectators at the event are the ones choosing the winners. This is an excellent way to see how well people like the new model. Naturally, we are deeply pleased.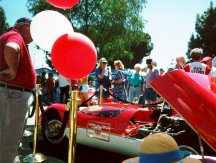 While at this event, we did do a photo shoot with Petersen's KIT CAR-The Specialty Car Magazine. You may be able to find the article out as early as September 1998. We might mention now, since we failed to in our last newsletter, that there will be an article in the August 1998 KIT CAR ILLUSTRATED. That photo shoot was done here in San Diego.
---
MORE MAGAZINE COVERAGE
---
Our weekend at Knotts Berry Farm was actually scheduled to precede a promotional tour to meet European Car Magazine Editor Tim Considine and AutoWeek's Mark Vaughn. Tim was actually very nice and opened up his home to me.
In addition to his work for European Car Magazine, Tim has recently published a book on American Formulae One drivers. Some of you may know him for his acting work in the television series, My Three Sons. Anyway, Tim enjoyed the car (a lot, so he says) and we look forward to reading his driving impressions in an upcoming edition of European Car Magazine.

Mark Vaugn is one excellent driver. He managed to arrange for the use of a track facility the Wednesday we met. After several laps he pitted and proceeded to explain the handling characteristics of the car as compared to the early racing Porsches. I just spoke to him the day I finished this newsletter and his article for AutoWeek sounds like fun reading.
---
THE TOYOTA 4A-GE ENGINE
---
Ever since the prototype Xanthos debuted last April 1997 we have received countless suggestions regarding engine options. The 1960's Lotus Twin-Cam engines, while historically correct for use in a Lotus 23B replica race car, simply are not as desirable as a modern fuel-injected 16-valve engine. The Toyota 4A-GE as found in the 1984-87 Toyota MR2 sports car is now fitted into one of our new 23 Sports Racers for testing. Using the higher compression pistons found in Japanese motors along with an aftermarket ignition system upgrade, we are anticipating 140 BHP.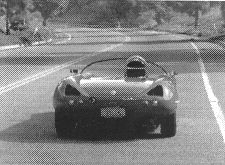 Stay tuned for the next issue to read about the June Car & Driver tests at Willow Springs Race Track!