NEWSLETTER
Volume 2 Issue 4 / April 1998
Publisher: XANTHOS CARS-NORTH AMERICA, INC.
P.O. BOX 87443
San Diego, California 92138-7443
Robert Simmons, Editor (619) 277-4681

---
March was a very busy month around here. The new Type 23-Sports Racer went on promotional tour all the way to Novato, California and back to San Diego. On the way up we visited with Gary Anderson, editor of British Car Magazine for a photo shoot and a ride through the hills surrounding Palo Alto. Gary turned out to be a very nice guy and was instrumental in helping us connect with D. Randy Riggs, editor of Sports Car International magazine. Gary promises a nice color layout in an upcoming edition which I hope you all will look for.

Palo Alto is very close to Los Altos and so we took the opportunity to visit with Dan Davis, editor of Victory Lane, a vintage racing magazine. I think Dan and I had some real fun when we took the Sports Racer over to a nearby race shop to let the mechanics check out the Xanthos chassis. Don't forget our chassis will replace the Lotus 23B chassis and that we supply replacement spares for Lotus 22's and 23's as well as complete replicas of the Lotus 23B.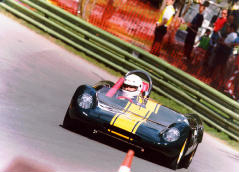 Lotus 23B Replicar
After an enjoyable afternoon and dinner with Dan and his lovely wife Madeline, we were off to Novato to visit Sports Car International. D. Randy Riggs was celebrating his 20th wedding anniversary the day we arrived so we hung around Novato until the next day. The whole Bay Area is quite beautiful so this was like a mini-vacation.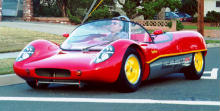 New for 1998, the XANTHOS-23 SPORTS RACER
If you've never been to Novato California let me tell you there are some really fun roads for sports cars. Randy (as he prefers to be called) and I spent the late morning and most of the afternoon driving twisty roads and through rolling hills dotted with cows, trees and the most beautiful shades of green. We stopped for lunch and I was introduced to a fried clam sandwich that was pure heaven. In addition to being a fine photographer and motorcyclist, Randy is a fine driver as well. His driving impressions will be found in Sports Car International within the next few months.
Finally, after the fourth day on the road we headed south for Newport Beach, California and our scheduled photo shoot with Road & Track. We are told by Doug Kott, West Coast Editor, that we will appear in the "Ampersand" section in an upcoming issue.
It is certainly encouraging to find so many car magazines interested in the new Sports Racer. The promotional touring is not over by any means. Just yesterday Tim Considine, editor with European Car magazine, asked for press release information. Seems they are doing a piece on Lotus' 50th anniversary and would like to include a section on our new 23 for the street. Car and Driver is scheduled to track test us at Willow Springs raceway in early June and we plan to have the fuel-injected 16-valve Toyota 4A-GE (MR2) engine installed.
Stay tuned for the next issue to find out what's happening!